Laser Printer Film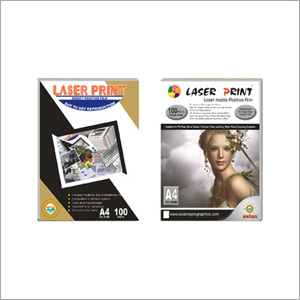 Laser Printer Film
Product Description
We are a renowned name in this industry for manufacturing and supplying an exclusives range of Laser Printer Film. On screen and PS plates, these films are used to provide perfect reproduction of images with improved print quality. For designing the films we use finest quality polyester-based materials, sourced from the authentic vendors. For safe and easy transportation, we pack the Laser Printer Film using tamper proof packaging materials. The clients can obtain our films at pocket friendly price.
Features of Laser Printer Film

:
Both side coated matte finish

High toner adhesion

Sharp and smooth image
Further Details of Laser Printer Film

:
Laser Print Gold 2125
SHEET & WEB OFFSET NEWS PAPER POSITIVE FILM FOR COLOR SEPARATION
Asian - Gold Laser Positive Film
is a polyester-based, daylight-working, zero-process, dry-to-dry film for making plate-ready offset positives (or negatives) using a desktop computer and a laser printer. It gives perfect reproduction of images which improves the print exposure quality on screen and PS plates. The UV density of the image is comparable with silver-sensitised graphic arts films and it is dimensionally stable to maintain accuracy under high temperature and all climatic conditions. This film is specially designed for News Paper & Text Book publishers for instant positive making
Both Side coated matte finish, Uniform toner transfer for high quality images. In-line stabilized to provide superior dimensional and heat stability for good registration. High toner adhesion and UV resistant image at lower levels of toner consumption. Anti-static coating for sharp and smooth image. Compatible with most laser printers and copiers.
ASIAN IMAGE DENSITY BOOSTER :-
Use ASIAN Density Booster on your prints, to enhance image density equivalent to lith film. You can get UV density close to 2.70 or process the film in Print Enhancer unit.
SPECIFICATIONS of Laser Printer Film
Media Handling and Storage

ASIAN Crystal, Gold, Silver, Copper can be imaged on either side of the film Hold the media by the edges. Be careful not to scuff or scratch the printing side. Store the media in a cool dry place and away from direct sunlight. Store the media flat, to avoid curling, warping or damage ot the edges. Ensure that blank media is always kept safely in the original packing. Maintain print environment at 20-25o C at 50-65% RH for optimum print quality.
Contact Us
S. No.120/1,2,3, Kavarapettai To Sathiyavedu High Road, Kettanamalli Village, Thirupuzhal Pettai Post, Thiruvallur Gummidipoondi Tamil Nadu India +918037400163
Phone :+918037400163