Cold Lamination Pouches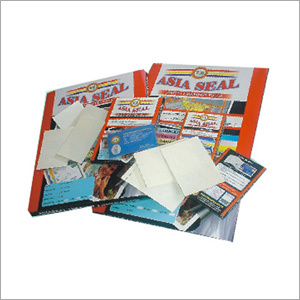 Cold Lamination Pouches
Price And Quantity
Product Specifications
Product Description
Ever since the journey began in the year, 1979, we have continued to carry our business by manufacturing and supplying Cold Lamination Pouches. These pouches are used to laminate various documents such as ID cards, visiting cards, photographs and certificates. The pouches are available in different customized thicknesses and widths as per the clients requirements. We produce these Cold Lamination Pouches using finest quality polymeric materials, sourced from the authentic vendors.
Features:
Chemically inert

Time saving

Easy retrievable parent document

The Presentation of document has become the most important subject of today's living style. Whether it is office document or personal photograph, Bag tag or Identity card, every document require elegant out-look to attract the attention of all. Conventionally, the hot lamination is very popular to dress up a document. This involves expensive equipments, electricity, preparation time, and expert handling.

With asiaseal lamination pouches, one can encapsule the document with in a minute of operation. One side adhesive film is sandwiched with clear U.V. resistant polyester film to perfectly suspend the valuable document with in two protective layers. The parent document can also be retrieved by providing interleaf in between document back at adhesive side. A clear thin polyester of 36 mic can be used for either side readable document lamination and opaque paper of 70 gsm for one side readable presentation.
SALIENT FEATURES
No Expensive Equipment.
No heat generated
Easy replaceable with new lamination.
hot lamination system, document once laminated is lost and it can not be reused, as the hot melt adhesive transfer glue on document itself.

The document like life insurance policies, sales tax certificates, motor licience, which require often renewals and attestations, can not be laminated in conventional system. With asiaseal state of art technology, you can protect any document with proper applications.
| | | | |
| --- | --- | --- | --- |
| Art No. | Description | Size in mm | No. of Pcs / Pktv |
| 600 | Visiting Card | 70 x 110 | 25 |
| 605 | Post Card | 105 x 155 | 25 |
| 625 | ID-Card | 95 x 130 | 25 |
| 605 (PC) | Photo Card | 120 x 170 | 25 |
| 605(MX) | Photo Maxi | 140 x 200 | 25 |
| 605 (A) | Photo Album | 105 x 380 | 25 |
| 610 | A4 Size | 235 x 315 | 25 |
| 615 | A3 Size | 315 x 435 | 25 |
| 620 | Legal Size | 235x 370 | 25 |
Asian Photo Lamination Media
Asian Self adhesive products include a wide range of cold lamination film for indoor and outdoor applications with different surface finishes like glossy, silk matte and texture. The right tools are needed for making quality signage and floor graphics.Soft cadmium free polymeric calendered PVC film is provided with a special sensitive and permanent acrylic adhesive. These seamless glossy, matte, textured laminates have been specially created for protecting inkjet, digital photos, electrostatic printouts. The adhesive is protected by a high quality silicon paper. The Asia Lam range is perfect for long term outdoor use under extreme conditions. As such it may add enormously to the UV resistance of your print outs. Preceding compatibility test are however advisable.

Product Composition
Front material is 70 + 8 mic thick polymeric calendered vinyl film with an excellent resistance against UV light, chemicals humidity, dirt and finger prints.

Backing Paper
Siliconised white craft paper of 137gsm with back print.

Adhesive
Special pressure sensitive and permanent acrylic adhesive This glue does not have an aggressive reaction on print outs.

Technical Characteristics at a relative humidity of 50 +5% and temperature of 23o+20C remain unchanged. The out door life span refers to the film and glue. However, this doesn't give any guarantee for the life of print out as this depends on too many other factors, like the inks and the media that is used and the printer on which it is created, etc.
Asia Lam Cold Lamination Films are available in width of 36" , 50", 54" and 60" wound in continuous lengths of 25 and 50 meters. The UV Block films are more expensive then the normal cadmium free non UV block laminates.

Always stores the lamination media in optimum suggested conditions for better self life.
Sizes Available

Art No.

Description

Width
in inch

Width
in Mts

Thickness

650/36

Clear glossy

36X

25

75/140

650/50

Clear glossy

50X

25

75/140

650/54

Clear glossy

54X

25

75/140

650/60

Clear glossy

60X

25

75/140

655/36

Textured matte

36X

25

75/140

655/50

Textured matte

50X

25

75/140

655/54

Textured matte

54X

25

75/140

655/60

Textured matte

60X

25

75/140

660/36

Silky matte

36X

25

75/140

660/50

Silky matte

50X

25

75/140

660/54

Silky matte

54X

25

75/140

660/60

Silky matte

60X

25

75/140
Floor Graphics
Art No.

Description

Width
in inch

Width
in Mts

Thickness

665/36

Grain finish

36X

25

75/140

665/50

Grain finish

50X

25

75/140

665/54

Grain finish

54X

25

75/140

665/60

Grain finish

60X

25

75/140

670/36

Satin finish

36X

25

75/140

670/50

Satin finish

50X

25

75/140

670/54

Satin finish

54X

25

75/140

670/60

Satin finish

60X

25

75/140
How to Use
First remove the side small strip fully.
Place the document facing transparent side and align for even margins all the sides.
Press the adhesive coated film to the document to hold it properly in position.
Now slowly pull the release paper and press the adhesive film without air bubbles.
Wipe the laminated film with cloth pad for even pasting or roll t through lamination machine.
The document is ready for presentation
Contact Us
S. No.120/1,2,3, Kavarapettai To Sathiyavedu High Road, Kettanamalli Village, Thirupuzhal Pettai Post, Thiruvallur Gummidipoondi Tamil Nadu India +918037400163
Phone :+918037400163