Reprographic Media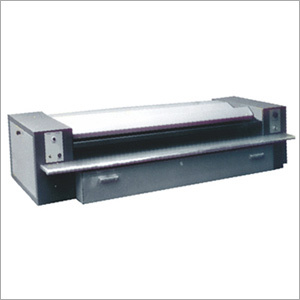 Reprographic Media
Product Description
Since 1979, we are engaged in manufacturing and supplying a technically advanced array of Reprographic Media. These are used for excellent reproduction of prints of all kinds. We design the media as per the latest market trends using superior quality sheet metal and water proof plywood. A solid state circuitry and silicon controlled rectifier is attached with the drive unit of the media. We can make the Reprographic Media available for the clients in different customized specifications as per their requirements.
Features of Reprographic Media

:
Simple to operate

Trouble free operations

Rugged construction
Further Details of Reprographic Media

:
The Machine is quite simple to operate and designed to ensure trouble free operations. The complete sheet metal fabrication is out of 18 and 20 Swg CRCA Sheets and the developing chamber is made out of water proof plywood.
It is the latest designed and most popular model in our range.
It ensures excellent reproduction of prints of all kinds.
Old and New tracings can be copied with ease as it is tenderly transported through the best conveyor system.

Design
The machine is of rugged design and all cylinders and rollers are precision mounted on ball earings. They ensure long and trouble-free working of the machine. The unique feature of the machine is the incorporation of a highly reliable drive unit with Silicon controlled rectifier and solid state circuitry. The conveyor belts are convenient to carry the sensitized material along with tracing. The feed table is sufficiently large for convenient handling of tracing. The sensitized paper compartment has a door with a ball catch for quick handling. There is a wide receiving tray to collect exposed prints. The chamber has been finished in hammer tone, which gives it a matte surface with less of dirt problems and it prevents the pealing of paint.. The AR 140 can be operated with any standard 5 Amps 3 pin socket.

Operation
It is very simple to operate. The tracing and ammonia paper are fed in to the machine over the feed table. The electronic control device ensures to adjust exact printing speed. Misfed material can be stopped and brought back immediately through the reverse switch operation.

Put the exposed ammonia / diazo paper in the horizontal / vertical developing chamber to get the copy.
Contact Us
S. No.120/1,2,3, Kavarapettai To Sathiyavedu High Road, Kettanamalli Village, Thirupuzhal Pettai Post, Thiruvallur Gummidipoondi Tamil Nadu India +918037400163
Phone :+918037400163